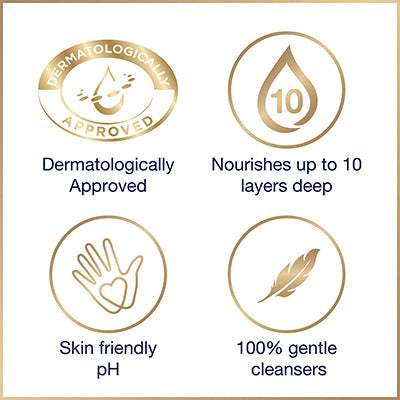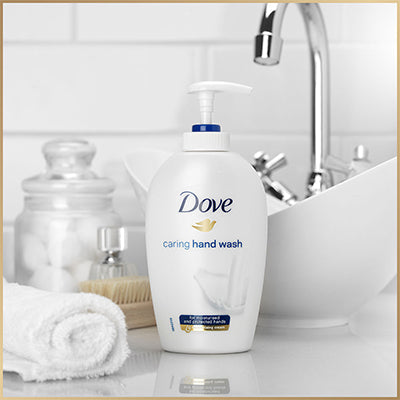 Dove Nourishing Liquid Hand Wash, 900ml
Features & Benefits
Product Description
Other Information
Customer Reviews
With 1/4 moisturising cream, Dove is gentler than soap and soothing on skin. It is ph neutral and has gentle cleansers, which are suitable for use on dry and sensitive skin too.
Lesser Harshness; 100% care. Dermatologically recommended; suitable for all skin type, mild and soothing handwash refill pouch
Dove handwash washes away germs and helps nourish and moisturise hands with every wash
Dove handwash gives deep nourishment and leaves skin soft, smooth. The gentle formula gives deep cleansing.
Bigger value pack for more savings
Use Dove handwash daily for soft, smooth hands.
Dove Deeply Nourishing Hand wash combines a gentle cleansing formula with moisturizing cream to give you soft and smooth hands with every wash. Washing your hands repeatedly throughout the day can make them dry and rough. Did you know that with the right hand wash you could turn washing your hands into an opportunity to care for your skin? A nourishing hand wash could help your skin turn soft and smooth. That's why we've created Dove Deeply Nourishing Hand Wash.
What makes Dove different? Dove hand wash cleanses your hands with a special formulation enriched with moisturizing cream to leave your hands soft and smooth and washes away germs. Dove gently cleanses your skin while retaining its natural moisture rather than stripping it away like ordinary soaps, and in addition helps replenish nutrients that are lost during the cleansing process. Just dispense a pump of this Dove Hand Wash into your hands and work into a rich lather before rinsing away.
Dove is pH neutral and has gentle cleansers. It washes away germs and helps nourish and moisturize hands with every wash. It is suitable for use on all skin types. It is mild and hence suitable for dry and sensitive skin too.

Manufacturer Name and Address: YODEVA PLASTICS (P) LTD., YODEVA PLASTICS (P) LTD., EPIP, Phase II, Plot No. 81, Thana, Baddi 173 205, Dist. Solan, Himachal Pradesh
Marketer Name and Address: Hindustan Unilever Ltd, Unilever House, BD Sawant Marg, Chakala, Andheri East - 400093
Country Of Origin: India
Best Before: **24 Months (From date of Manufacturing)
Dove Nourishing Liquid Hand Wash, 900ml
Dove Nourishing Liquid Hand Wash, 900ml