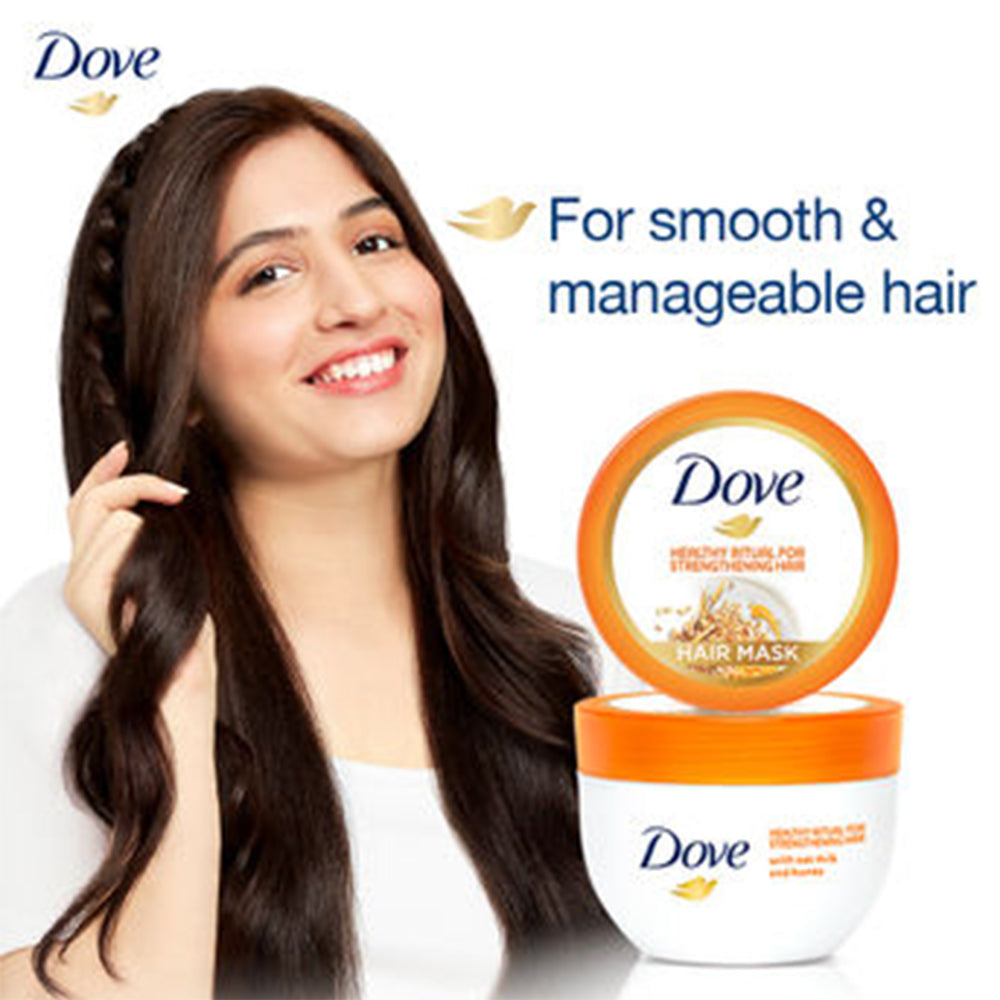 Dove Healthy Ritual for Strengthening Hair Mask, 300ml
Features & Benefits
Product Description
Other Information
Customer Reviews
Inspired by rituals of Nordic women
Infused with oat milk and honey extracts
Repairs damaged hair
Make hair stronger and healthy looking
Suitable for daily use
Provides deep nourishment to keep hair healthy
Tired of frizz that leaves your hair looking unmanageable and dry? Does tangled hair lead to hair breakage? Look no further. Everyday damage can stress hair strands, leaving them weak and prone to breakage and causes hairfall**. Presenting an uniquely crafted hair mask, new Dove Healthy Ritual for Strengthening Hair! This hair mask is inspired by the rituals of Nordic women and infused with the goodness of oat milk and honey; natural ingredients that are known for their moisturising and strengthening properties.
Dove borrowed this healthy ritual and created the new Healthy Ritual for Strengthening Hair. Combined with the superior care of Dove, the hair mask formula instantly smoothens out the hair surface, preventing frizz and keeps hair looking smooth and shiny. It works to reduce frizz, making hair appear smooth and controls fly away hair. Due to the strands being smooth, they detangle easily, minimising breakage and letting your hair look healthy and smooth. For best results, use with Dove shampoo and conditioner in your weekly hair care regime. So, flaunt your smooth hair without the worries of frizz, by giving your hair the care and pamper it deserves!
* Strength due to reduced hair breakage, based on lab test vs non-conditioning shampoo
**Hairfall refers to breakage

Storage Direction (e.g. Condition)
Store in cool & dry place away from sunlight

Usage Directions
Divide wet hair into sections. Apply adequate amount to each section, distribute evenly and massage gently with fingertips into hair and scalp. Leave the mask on for 3-5 minutes or more depending upon your hair needs. For best results use 2-3 times a week.
Manufacturer Name and Address: Hindustan Unilever Ltd, Lotus Factory, Haridwar, Uttarakhand
Marketer Name and Address: Hindustan Unilever Ltd, Unilever House, BD Sawant Marg, Chakala, Andheri East - 400093
Country Of Origin: India
Best Before: **24 Months (From date of Manufacturing)
smooth and moisturized hair
smooth and moisturized hair